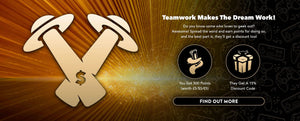 If you have already signed up for a Just Geek account, you are automatically enrolled. Otherwise, signup at the top of this page!
Check out your point balance at the top site when you are logged in, or in the widget in the bottom left of the screen
See the rewards section on this page when logged in. Here you'll see all the reward levels available. If you have enough points, you can redeem them during the checkout process when logged in using the redemption slider.
No, this is yours for the taking! The more you buy and share, the more you earn. Just remember that your points expire on a rolling 365-day period.
Unfortunately, your pending points will become 'cancelled' and will be removed from your account.
It could mean you, or someone you referred, cancelled or returned a purchase which will result in points from that purchase being removed from your account. Your points may have also expired on a rolling 6 month period. Please contact customer service if you have any concerns about your points balance at help@geekstore.com
No sweat! It can sometimes take a few minutes for us to process your activity and provide your points. If its points from a purchase these can take upto 14 days to appear in your account. If it's been longer than 14 business days, hit us up at help@geekstore.com.
Yes, but you must log in first. Once logged you can either redeem you points during checkout using the points slider or you can head to the rewards section on this page and redeem a reward, once this has been done you will be given a voucher code to get money off your next order.
That's a bummer! If you no longer wish to earn points, please contact us and ask to be removed from the program by contacting us at help@geekstore.com. When this is done all points will be removed from your account.
You can share your URL however you see fit with the exception of coupon or deal sites. We love seeing our fellow geeks share their link on social media, blogs or even by WhatsApp! You can find your URL after signing into your Rewards dashboard. If we find anyone to be abusing their referall we reserve the right to remove those points and close the loyalty account
Unfortunately, once your points have been used, they will not be re-issued
You can use up to 2,000 points (£20) on one order
If you have checked out as a guest we cannot apply the historic points. before your account was created.
Points are not given for the cost of shipping. If you buy a product for £10 and pay £3 shipping, you will get 10 points.